Service
The Five Services Provided by Cognavi.
Providing Four Services to Support Strategic Personnel Management for Mechanical and Electrical Engineers
Cognavi Supports All Kinds of Careers Conducted by Engineers

Cognavi offers four services that address wide-ranging career situations that engineers deal with, from graduation to personnel changes. In all situations, we will achieve matching that makes maximum use of resources possessed by both engineers and companies, while resolving personnel issues distinct to mechanical and electrical engineering.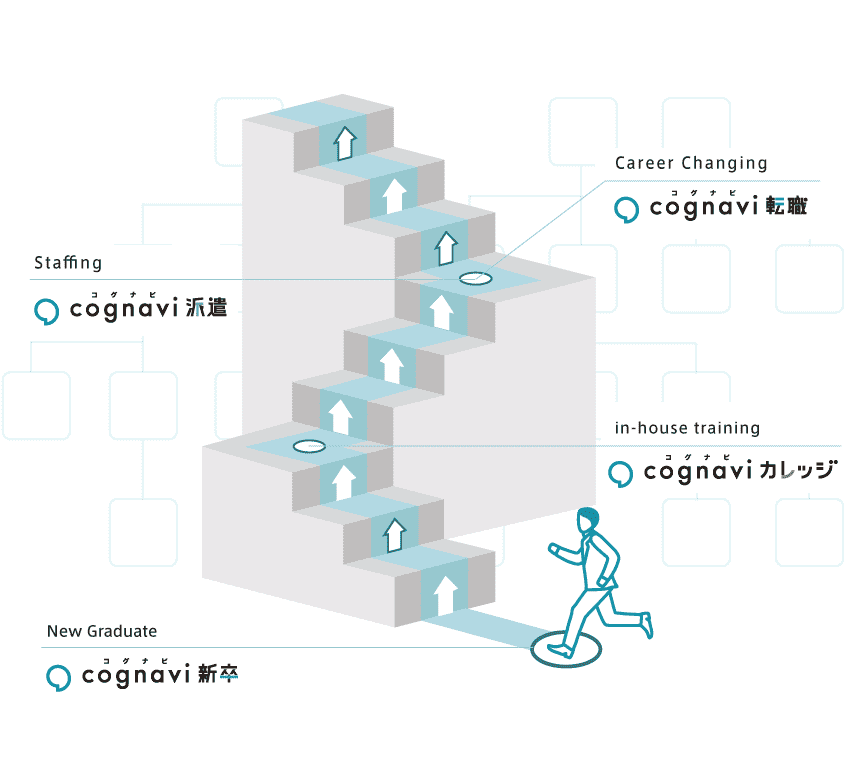 Applying Unique Technology to Resolve Personnel Issues Distinct to Mechanical and Electrical Engineering
The Cognavi brand provides AI-powered services that are focused on mechanical and electrical engineers.
Due to the difficulty of visualizing mechanical and electrical engineering skills, manufacturing companies have faced the formidable HR problem of grasping such qualifications by relying on determinations made on-site and personal interviews.
In order to resolve this issue, Forum Engineering has developed unique technology that ascertains skills quantitatively using AI. We have created a system that, using tree diagrams, expresses the skills possessed by engineers in a Skill Tree and the requirements held by companies in a Technical Tree, and then demonstrates the correlation between each tree using lines.
By offering four services grounded in this technology, we provide support in a precise and efficient manner for personnel strategy entailing the hiring, reassignment and development of mechanical and electrical engineers.
HR Services & HR Management